Two weeks after London to Paris and I've regained feeling in my knees, we're back to reality, and most importantly, it dawns on me the sheer magnitude of what we, as a collective, have achieved.
Committing to a "Challenge of a Lifetime" was in itself a monumental feat; following through with it, however, proved to be a whole different ballgame – or at least it was for me!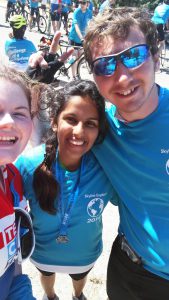 I haven't cycled in 15 years and living life on the slightly directionally challenged side, the prospect of making my way from London to Paris while strapped to the bike was nothing short of daunting.  A larger proportion of Day 1 than I'd care to admit was spent tumbling, veering seriously off-route, lamenting "what possessed me to sign up to this?!" and ultimately empathising with Bridget Jones on that ski trip more than I ever thought possible.
I met many wonderful individuals with varying backstories, both fascinating and heart-warming, that motivated them to gravitate towards our shared venture.  I felt I'd only just scratched the surface with all these new faces,  were it not for this event, we might not have crossed paths.
In the lead up to the challenge, we were supplied with an abundance of information, and getting in touch with Skyline couldn't have been easier.  Our Cycling Training Guide detailed an array of tips to aid with preparation, and culminated with the strict instruction to "Enjoy yourself", which rather poignantly happened to be the last words my Granddad breathed at the start of this year.  I treasured that piece of advice when things got intense during the challenge, and I can honestly say it made all the difference.
The crew were so welcoming and approachable from the offset that it set the tone for the entire trip.  They had a mammoth task on their hands with responding to those of us struck by heat stroke, and I was amazed at the commitment of the crew to ensuring we were at our best both physically and mentally, even to the detriment of their own sleep!  Having spent a fair deal of the trip becoming acquainted with the back vehicle, I now fully appreciate why it was affectionately dubbed the "love bus"!
[Richard from the "love bus", showing us the love on a tough day]
Of course, the endeavour took its physical tolls on us.  Yet what I'd grossly underestimated, were the mental and emotional demands that came hand in hand.  The nature of our challenge dictated a strong sense of comradery as we shared in a very unique end goal, and I do (warning: cheese alert) truly believe I have made some friends for life.
If you have made it this far (kudos / tldr), chances are you were part of this trip or are considering involvement in the near future!
My key takings were vis-à-vis the following [insert Ross Gellar gif]:
Do your best to honour the commitment you have made by putting in the time to prepare. This quote from the book The Monk Who Sold His Ferrari sums it up perfectly: "Saying that you don't have time to improve your thoughts and your life is like saying you don't have time to stop for gas because you are too busy driving.  Eventually it will catch up with you."  I'll confess I struggled with a bout of procrastination; however, you owe it to yourself to fully enjoy and absorb this extraordinary experience.

It's important to note that you get out as much as you put in and that each person's experience is relative. Listen to your body, even when that innate stubbornness we all have doesn't want to, and go easy on yourself – there's a reason this is classified as challenging!

If considering signing up with the proviso you can convince a mate to join, that's no doubt a motivational boost – however, you can absolutely feel encouraged to sign up individually. Many people including myself did; it was actually less overwhelming and more empowering than I'd anticipated!

Following the challenge, learn to value stillness. So many of us lead such fast-paced lives, using busyness as a metric for fulfilment, that we don't always appreciate what has been and gone; instead we focus on consistently chasing "what's next".  Take some time to allow the fruits of your labour to sink in and savour it.  It's not until you're tested, in a way that even practice cannot simulate, that you realise just how determined you are – you may just find yourself manifesting some breakthroughs of which you weren't even aware!

A new-found appreciation for the Tour de France riders, rather them than me – in awe!
A sincere thank you to Skyline Events and to all the people I met on what was a much more pivotal trip than I could ever have imagined.  Before completing this sentence, I'll acknowledge its cliché undertones, however, I learned a great deal about myself and returned home with a pleasantly unexpected sense of clarity in terms of how to approach multiple areas in life.
In summary, for anyone remotely interested in this challenge, in the piercing words of Shia LaBeouf, "Just DO IT"!
-Priyanka Julka